Ringwood Property professional steam cleaning services division in Melbourne provide flexible service plans to remove stains in carpet and upholstery using hot-steam covering Melbourne, Sydney and Canberra.
Hire professional Melbourne staff & equipment for steam cleaning
Give your delicate carpets, rugs, drapes and upholstery a deeper, healthier and long lasting steam clean without the usage of harmful chemicals with our unique steam cleaning process. Ringwood Property steam cleaning service division operating from Melbourne use latest hot-steam cleaning equipment, materials and steam cleaning techniques which extend the life of the material while retaining optimal colour and appearance.
Keep your carpets and floors super-clean
Steam cleaning is the most effective and environment-friendly cleaning procedure when compared to the conventional cleaning. RPS steam cleaning unit in Melbourne offers this effective and efficient service to clean your carpets and floors. Our well trained and experienced staff will help you to eliminate stains, dirt, grit and harmful bacteria from carpets without the use of toxic chemicals. The techniques used by our experts will sanitise the carpet and completely removes the grime, bacteria, and other hazardous substances from carpet making a safe living environment for your family and employees. Our Melbourne steam cleaning staff guarantees your satisfaction by making your carpets look bright and feel fresh, clean and toxic free. Please contact our experts in steam cleaning service unit in Melbourne to make your carpets long-lasting, visually pleasing, stain free and toxic free.
Ringwood Property Melbourne steam cleaning service staff starts with a good vacuuming of the area, followed by a pre-spray treatment to break up dirt and other residues, and then followed by a deep scrub and steam. The remains of the hot-steam clean are absorbed by a powerful system, leaving your carpet almost dry. Ringwood Property professional Melbourne steam cleaning service staff uses environmentally friendly biodegradable industry-certified hot-steam clean products which are 100% safe. Steam cleaning is the most recommended method of carpet clean by carpet manufacturers. Hot-steam does not wear down the fibers of the carpet. Steam cleans carpet deep and leaves no residue behind.
What's included in our steam cleaning Melbourne services?
Deep and thorough steam clean process of all surfaces.

Usage of biodegradable, non-toxic agents that are 100% safe for hot steam cleans.

Hot steam cleans the surface and sanitises it to ensure all allergens and bacteria are kept at bay.

Steam cleaned surfaces take only a few hours to dry.

Certified experienced steam cleaning Melbourne professionals who hold immense knowledge and experience in their job niche.

100% satisfaction guaranteed steam cleaning Melbourne services.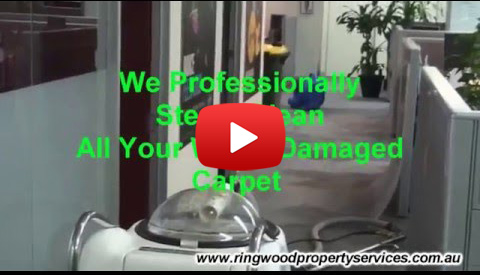 Ringwood Property steam cleaning services
Dry carpet clean.

Steam carpet clean.

Extraction clean.

Carpet sanitising.

Carpet deodorising.
Unique steam cleaning offerings in Melbourne and VIC
Ringwood Property vibrant steam cleaning offerings for Melbourne and VIC, combined with a unique hot-steam clean process and equipment will ensure your surfaces and carpets are thoroughly steam cleaned. Cleanup agents are injected deeply into the carpet at high pressure and are instantly extracted by hot steam. We offer professional steam cleaning services covering Melbourne, Sydney and Canberra.
Fast steam cleaning offerings across Melbourne, Sydney, Canberra
Ringwood Property Services is a leading steam cleaning provider. Call our steam cleaning Melbourne services hotline 1300 39 44 55 to book your steam clean. RPS friendly customer care advisers are ready to help you. Contact us today for an obligation free quote. We would love to hear from you!
Premium hot steam cleaning and property maintenance services in Melbourne and VIC
"Premium people in property maintenance and cleaning. We provide steam cleaning services in Melbourne and across VIC, and specialised in all types of industrial, commercial & office, builders, and body corporate cleaning services in Melbourne, Sydney and Canberra. Guaranteed customer satisfaction with over a decade of excellence. Ringwood Property Services is headquartered in Chirnside Park, Eastern Suburbs Melbourne."