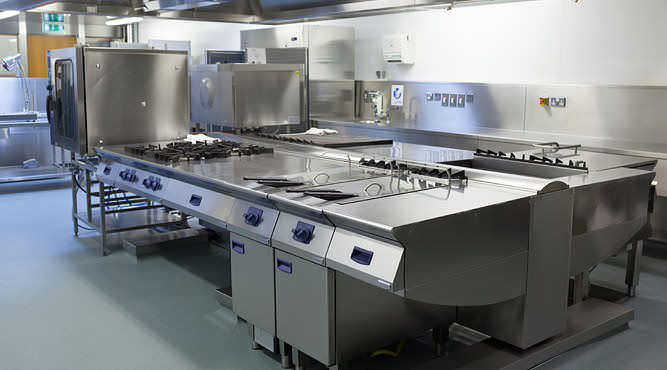 Ringwood Property Services provides a professional deep clean service for commercial kitchens, so you can concentrate on what is important to you and your business.
Whether you run one of Melbourne's top 5 star hotels or a small restaurant, we can provide you with a bespoke service to meet your requirements.
We offer both one-off cleans or ongoing commercial kitchen cleaning programmes in and around Melbourne, Sydney and Canberra. Periodic kitchen deep cleaning helps maintain a high standard of hygiene and compliance with legislation. Daily cleaning routines can maintain a good level of hygiene. However on less accessible surfaces such as walls, ceilings, lights, equipment and kitchen fittings, the gradual accumulation of grease and fat can provide a potential breeding ground for bacteria.
Our commercial kitchen cleaning service in Melbourne, Sydney and Canberra provides and maintains a high standard of kitchen hygiene through thorough regular cleaning. Burnt on carbon and fat deposits are removed, ensuring any potentially harmful bacteria are eliminated. This procedure also helps to prolong the life of your expensive kitchen equipment.
Given the stringent health and safety laws surrounding food hygiene, we can tailor an annual maintenance programme to suit your commercial kitchen cleaning needs, whilst staying fully compliant with food safety regulations.
We undertake cleaning of all areas within commercial kitchens including walls, floors, ceilings, ducting and vents, appliances inside and out, hobs, cookers, ovens, deep fryers, shelves and racks, refrigerators etc. All this gives you the peace of mind you expect with a commercial kitchen cleaning service of this calibre.
We understand the risks you need to manage to keep your premises safe, such as grease deposits that pose both a fire risk and a danger of bacterial contamination. Tackling these issues is vital for your business on many levels and it is all a standard part of our professional commercial kitchen deep cleaning services in Melbourne, Sydney and Canberra. Contact us today for an obligation free quote.
Our commercial kitchen cleaning services in Melbourne, Sydney and Canberra include,
Total Kitchen Cleaning - call on us to come into your facility sanitise all food contact surfaces and clean all those hard to reach spots.

Power Washing - power washing of floors, ceilings, walls, walk-in boxes, hoods, ducts, fans and cooking equipment.

Steam clean stainless steel appliances.
Premium commercial kitchen cleaning and property maintenance
"Premium people in property maintenance and cleaning. We provide commercial kitchen cleaning services, and specialised in all types of industrial, commercial & office, builders, and body corporate cleaning services in Melbourne, Sydney and Canberra. Guaranteed customer satisfaction with over a decade of excellence. Ringwood Property Services is headquartered in Chirnside Park, Eastern Suburbs Melbourne."